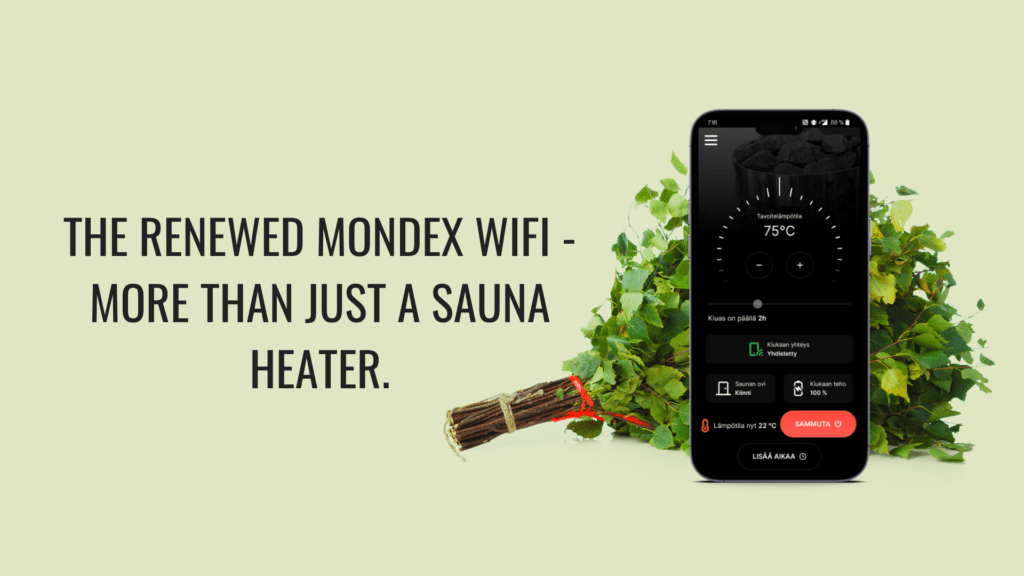 The renewed Mondex WiFi is more than just a sauna heater! We recently updated the Mondex WiFi heater control app to serve sauna lovers even better. The app is now easier to use, and provides more information about your heater and the sauna experience in general. All Mondex model E2 sauna heaters are also available in a WiFi version. You can upgrade your current model E2 heater to the WiFi version with an upgrade package.  
OPTIMISING THE HEATING OF THE SAUNA  
Whether you're returning from a trip or out on a jog, you can turn on the WiFi heater remotely and enjoy a nice, hot sauna when you get home. In the app, you can increase the time the sauna is heated, check the temperature, and change the desired target temperature. The app will let you know when the target temperature is reached so you can start getting ready for your sauna experience. 
A SAFE HEATER, ALSO FOR A FAMILY 
The Mondex WiFi heater is a safe choice for families with children. Before the heater can be set on standby mode, the user must check that the sauna is safe to use and that no objects have been placed on top of the heater. Once you've checked this, close the sauna door and use the controller to set the heater to standby mode. You can then schedule the WiFi heater to heat up anytime you want. The heater is supplied with a door sensor that detects any opening of the sauna door before heating starts. Should this happen, the heater timer is switched off until the sauna is checked again, the door is closed, and standby mode is activated from the controller.   
WHEN AND HOW DO YOU TAKE A SAUNA? 
In the diagnostics section in the WiFi app, you can see how many times and when the heater has been heated. The app will also remind you well before the stones need to be replaced, helping you to look after your heater. In the sauna diary section of the app, you can enter the price of electricity and easily track how much money your household spends on taking saunas.  
WiFi heaters can be purchased online and from our dealers all around the world. All Mondex model E2 heaters can be made compatible with the new WiFi app. The upgrade package for converting your E2 heater to a WiFi heater is available in our online store for spare parts. 
MONDEX E2 WIFI HEATER FEATURES: 
Heater can be controlled from an app on a smartphone, tablet or computer 
Temperature, on-time and timer can be controlled remotely 
Users can check the temperature of the sauna and the remaining on-time 
Users can monitor the power consumption of the heating resistors 
Users can monitor the number of times the heater has been used 
App sends a reminder to replace heater stones 
Users can monitor the electricity consumption of their heater and, by entering the price of electricity, its heating costs 
Security-enhancing door sensor included 
WIFI CONTROL REQUIREMENTS 
A good WiFi connection 
Device to install the app: smartphone, tablet or computer  
Explore sauna heaters
Find perfect heater for your sauna by using our Sauna heater selector